Marco
Climbing, hiking, canyoning, whitewater and mountain guide + ski teacher
"I wanted to be a mountain guide since my childhood."
Meet our friend Marco aka "Mr. Mountain", a fully passionate alpinist and outdoor sportsman! It was already his dream job to become a guide when he was a little boy and so he started his education in 2004. After travelling the world for alpinism, climbing, canyoning and skiing, he now wants to show people the beautiful area of his home of choice – Granada.
As a member of the Spanish association of mountain guides (AEGM) and the international union of media guides mountain (UIMLA) he is the one training new guides. And thanks to this broad certification and experience, he can take you on any mountain and water adventure 🙂
When you are with him, he will forward the energy to you, which he gets from the mountains. By teaching you how to climb them up, or ski down, in the best and safest way. Check out the climbs and mountaineering adventures Marco offers on his web page https://mountainguidemarco.com.
We took a short personal interview with Marco, so you can get to know him better:
Why do you climb and not play soccer? It gives me peace.
Name your favourite mountain (range). El Torreón, in the Los Galayos (Avila, west of Madrid)
Normal shoe size vs. smallest climbing shoe size? 39 EU for both. I don`t like to suffer 😉
What was the funniest thing that ever happened to you in the mountains (or on a crag)? Once after more than two hours approach, we wanted to take out the ropes to start climbing, just to realize we forgot them.
Name your favourite beer brand. Alhambra, Granada
What was your best climb/boulder/mountain of all times and why? Climbing El Capitan (Yosemite), because the history and energy is very special in that place.
What do you like most about guiding? Sharing a day outside with a compañero and, for sure, see the satisfaction in his eyes.
Certificates
TD2 – Alta y media montaña (UIMLA guide)
TD3 – Escalada
TD1 – Esquí alpino
TD2 – Barrancos
TD2 – Aguas bravas
Guiding experience
Mountain, climbing, canyoning and kayaking guide for different companies in Spain
Trainer for new climbing and canyoning guides
Languages
Tobi
Canyoning and boulder guide
"Bouldering is my passion and I know the spots in the southern part of Spain very well. If you come with me, you will have an amazing adventure!!"
Meet our friend Tobi aka "Mr. Strong tendons"! He is a certified canyoning guide with many years of experience in that sport. Regarding climbing he mainly enjoys to show his strength in bouldering up to 7c (Fb grade), nevertheless he also already sent an 8a in rope climbing.
Check out a few of his amazing boulders and canyoning videos on his Youtube channel, you can find the link below!
Since he grew up in Granada, he knows all the canyons and boulder areas around. So if you want to enjoy a canyoning trip or a boulder day here, he is absolutely the person to go with 🙂
We took a short personal interview with Tobi, so you can get to know him better:
Why do you climb and not play soccer? Climbing is my perfect drug!
Name your favourite mountain (range). Alcazaba 3.371m. (Sierra Nevada), Granada Spain
Normal shoe size vs. smallest climbing shoe size? 42 2/3 EU (8.5 UK) vs. 39 1/2 EU (6 UK)  -> We say: he obviously likes to suffer 😛
What was the funniest thing that ever happened to you in the mountains (or on a crag)? Guiding in a wet canyon, somebody telling you that your wetsuit is broken because it`s getting wet 😀 but the worst is – I have also been told that by other persons, in other groups!!
Name your favourite beer brand. Estrella Galicia, Spain
What was your best climb/boulder/mountain of all times and why? In bouldering: doing three 7c`s ("Zarzamora", "El Varano" and "La Fuente") in the same trip in 3 days in Albarracín, I cannot realize I could do it! In sports climbing: doing 8a "Tahin", because I didn`t think I could do it, because I'm so afraid in sport climbing routes!
What do you like most about guiding? Discovering new places, meet nice people and let the people trust you!
What place would you love to go for your next rock trip? Fontainebleau (France), Magic Wood (Switzerland), Rocklands (South Africa), USA…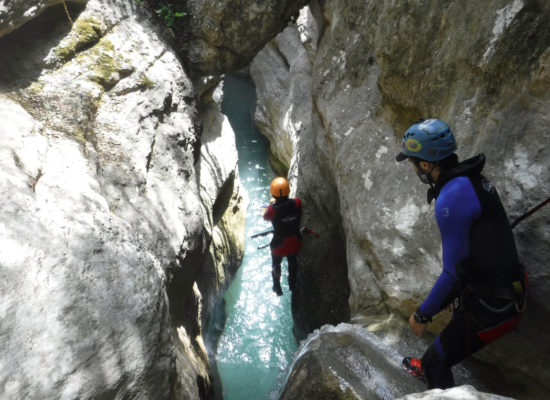 Certificates
TD 1 – Técnico Deportivo de Montaña y Escalada –  Nivel 1 IAD (Instituto Andaluz del Deporte, Jaén)
TD 2 – Técnico Deportivo de Barrancos –  Nivel 2 (Iundenia, Granada)
Guiding experience
Canyoning guide in Rodellar, Huesca
Canyoning guide in Alquezar, Huesca
Climbing and adventure park monitor in Cazorla, Jaen
Languages
Spanish, English, Italian, French