Thanks to our fabulous climbing and outdoor guides 🙂 we can provide you plenty of guided activities in a few different fields around the outdoor sports! Depending on the type of sport, and your personal level in it, this can be a learning course to enable you in something new, accompanying you for a day to show you the nicest spots or routes, or take you on a special tour.
Personalized for you!
All our courses and guidings are personally planned and executed. Courses as well as guidings will always be personalized and done based on your skills and needs. 
That´s why we normally don´t organize activities with big groups, you should be maximum two persons per guide, to be able to learn something. 
For every course the goal is that afterwards you are self sufficient in whatever the course was about! For example after the climbers beginning course you will be able to go climbing on your own with other partners 🙂
A taste of rock climbing
Are you interested in climbing but are not sure if it is for you, or where to start? Are you looking to experience the vertical world and gain a new adventure that could turn into your new favorite hobby or sport?
Then this taster could be just the thing for you!
With no experience needed, join a guide for a few hours to get a true taste of outdoor rock climbing 🙂
Rock climbing beginners course
In this course you will learn from scratch how to rock climb. Starting from how to put on a harness, you will not only learn how to climb, but also how to belay, lower, lead climb and clean the route afterwards.
Go rock it now!
Climbing coaching and training
You want to train your technique? Improve your grade with professional support? 
Or just want to enjoy a fun day of climbing out on the rock for single or multipitches, but you need the equipment and a partner who knows the area?
If you want a full day of climbing on the best spots and routes around Granada, with somebody who knows his way around, our guides can help you with anything – just let us know!
Multipitch climbing course
In this course you will learn how to belay on multipitch, set up anchors, use a double rope, use the correct signals and everything else you need to know, about climbing equipped multipitches in a safe way.
Go for the loooong climbing experience!
Climbing mental training
You are regularly freaking out, as soon as you passed a bolt on a lead climb? You get in panic, if you can`t see where the next "thank-god"-hold is? You only toprope, because you are afraid of falling?
We have all been there! If you want to work on your mental strength in climbing, our specialized guides would be happy to help you.
Free your mind!
Bouldering
You have never bouldered outside a gym, but you want to try? Or you want to enjoy a relaxed boulder day with someone, who knows the best boulder spots and routes around Granada? Or you want to reach the next level in bouldering, by training with one of the strongest boulderers in the area? 
Don`t hesitate to spend a guided boulder day, including crashpads!
Basic trad climbing course – gear placement
In this course you will learn which common types of gear exist for traditional climbing and how they are used and placed correctly. 
This knowledge will help you to secure runouts between bolts on sports or (alpine) multipitch routes, or might also be useful in hard sections to aid climb on trad gear instead of being stuck.
Make yourself a more expierenced climber!
We also offer a more advanced course, with the same contents plus additional practice, see below.
Trad climbing course
In this course you will first learn which common types of gear exist for traditional climbing and how they are used and placed correctly. 
Then you will also learn and apply, how to set up anchors, how to belay properly on trad climbs using the ATC/Tube, how to rappel and everything else you need to take care of, to be as safe as possible without bolts.
Push your limits and go for the adventure!
Self-rescue course
You do a lot of multipitches or alpine climbs, but you know very little about possibilities for rescue, in case of emergency? Then this is the right course for you!
You will learn about security protocols, necessary material, knots, ascending and descending on fixed ropes, assisted rappel, abseiling of injured persons and much much more.
Learn how to help yourself!
Mountaineering course
You want to learn everything that is necessary to go on high mountains with glaciers? This course will teach you!
You will learn about safety techniques and rope handling, the use of crampons and ice axe, crevasse and avalanche rescue, risk management, descending by rappel and much more.
Expand your comfort zone!
Info: this course is only possible between December and April, depending on the conditions.
If you already have mountaineering experience and want to explore Sierra Nevada, see the guiding options below.
Guided mountaineering
For already a bit experienced mountaineers, the Sierra Nevada offers a lot of really exciting ascents! For example the north face of Mulhacen (AD) or the north colouir of Veleta (AD) and many more.
Whether you want to do a classic route or a specialty, we can guide you to the top.
Why do we climb mountains? Because we can!
Info: only possible between December and April, depending on the conditions.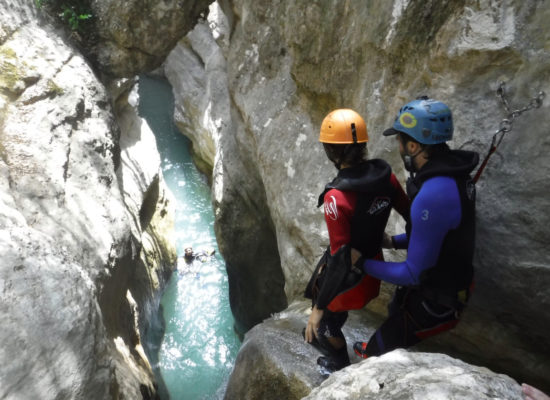 Canyoning
Spend a day in one of the beautiful canyons around Granada and live the adventure of this quite trendy outdoor sport. You will be guided completely through an exciting canyoning route.
Warm up for the challenge!
Ice climbing course
If you always wanted to learn ice climbing, this is your chance!
In the course you will learn about materials, logistics, belaying, ice screw placement and anchor setup, ice climbing technique, climbing physics and more.
Get off the warm sofa and on the cold ice!
Info: this course is only possible between December and March, depending on the conditions.
Hiking
We can offer you guided hikes around Granada, for example the hike to Cogollos` Peñon de la Mata. Or many summer and winter hikes in Sierra Nevada, in various difficulty levels. For example the "Integral de Sierra Nevada", a three day hike passing the 3.000 m peaks of Sierra Nevada, or the "Sulayr" hike, a 15-20 day hike around the whole Sierra Nevada.
Just let us know, what you are up for, and we will find the perfect tour!
Snowshoeing / Ski touring
The Sierra Nevada is a famous ski area in winter, and you can also ask us for an alpine skiing course, if that is something you want to do.
But for nature lovers, it is maybe most fun to discover the snowy landscape while hiking up the mountains with snow shoes or skis. We can offer you a guided snowshoe or ski tour, for example to the summits of Veleta or Mulhacen, the highest peak of Spain mainland. 
Enjoy the winter wonderland!